In this tutorial we are going to have a look at how to make an Elementor "WordPress Menu" element horizontally scrollable, for mobile devices. It could also work on desktop, if you have many nav items.
Here is an example of the horizontally scrollable nav menu we are going to create:
For a better preview, visit the demo page from your mobile.
Features:
Left and right arrows to scroll (accessible)
Left and right gradients in the directions where scroll is possible
Arrows become unclickable and lower opacity if you can't scroll in that direction
Optional 'buttons' shape design
Different current menu item styles
Automatically scrolls to the current menu item (if one of them is the current page)
Automatically scrolls to the center of the clicked item (useful for a sticky nav with anchors)
If you would like even more features, check the Elementor Horizontal Scroll Menu, Taxonomy, Tabs With Images Premium tutorial. This is what that premium tutorial shows you:
First, let's prepare the Elementor WordPress Nav Menu Element
This tutorial is made to work with this element:
It used to be called "Nav Menu", but now Elementor changed it to "WordPress Menu".
If you already have it on your page, with some styles, I suggest you start by right clicking > clear styles. The code we will be adding will take care of the styles.
Now, set the layout to Horizontal, the Pointer to None, and the Breakpoint to None.
Under Advanced > CSS Classes, give it the class name horizontalNav
Now, let's add the Elementor Horizontal Scroll Navigation Menu code
Add the HTML element right after your Nav Menu element.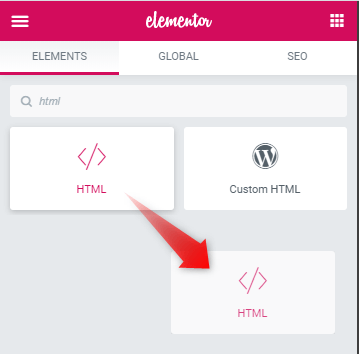 Go under Advanced > Position, and make the HTML element position absolute so that it doesn't occupy any flow space. You will be able to find it back easily through the Navigator.
Add this code in the HTML element:
<script&gt 
/* Please login to get the code 
 * The code will be for the Elementor Horizontal Scroll Navigation Menu On Mobile Easily tutorial 
 * Found at this URL https://element.how/elementor-horizontal-scroll-navigation-menu/ 
 */ 
</script>
Adjusting the code
In theory, everything should be working just fine already!
However, you might want to adjust various styles to make it match your project's requirements.
Adjusting the JavaScript
The first part of the code is the JavaScript. You don't really have much that you could edit here, except the SVG Icon.
If you would like another SVG, simply replace the SVG code that's there currently with your own. You only need the left arrow SVG code, as we are rotating it to create the right arrow.
If you like these arrows but want another color, change the fill="#444444" to your own color.
Important: the arrows will only show up on the front end, not in the editor.
Adjusting the CSS
Below the JavaScript, you will find the CSS inside of <style> tags.
There are multiple comments in the CSS, so you can read through it, and make the changes you want there.
Finally, enjoy your Elementor Horizontal Scroll Navigation Menu!
I hope you have enjoyed this tutorial!
Cheers!