Are there Elementor mini cart add-ons that ensure the entire checkout process is seamless and delightful for the customers? Because we all know that a properly displayed mini cart is essential when it comes to the overall experience of your customers, offering them quick access to their shopping cart and straightforward purchase options.
Out of the box, Woocommerce doesn't come with great design options for the mini cart and cart page. You are left to use any WooCommerce mini cart plugins available on the WP repository to help to improve the overall productivity of your cart page for a better shopping experience for both new and returning customers.
Because we are building our Woocommerce stores using Elementor, the focus of this article will be on addons that allow you to create your desired mini cart.
As part of the Pro version of Elementor, you get a menu mini-cart widget that lets you add mini carts to headers and footers. This mini cart is unique in that it can function as a mini cart or a side cart when customers add products or want to view their carts.
With the mini cart, customers can view and remove products without leaving the page from which they opened the cart from. They can also go directly to the checkout page from the mini cart.
It is possible to customize your cart with colors and fonts that match your site's branding without writing a single line of code right from within the Elementor Editor.
This addon has an interesting feature - when you add a product to the cart, the shopping cart opens automatically via Ajax, and customers can see and edit what they have in their carts without having to click on the cart icon. But you must enable the "Ajax" option in Woocommerce settings for this to work.
Pros
You don't need an additional plugin to have this feature in your woocommerce store
Elementor helps you avoid conflict with theme or plugin carts by giving you a function to mini cart templates from themes and plugins
Cons
You need the pro version of Elementor to have the feature on your website.
There are only two display designs for your cart. Unlike other addons that give you several design options to pick from.
Elements Kit Mini Cart
Your store's mini cart can appear to be beautiful, enhanced, and flexible thanks to Element Kit - an Elementor addon with a widget to add a mini cart to your site. It offers many features which are not included in the standard woocommerce mini cart.
Element Kit mini cart, the all-new customizable freedom for your shop. Fully customizable styles, effects and animations to create an unforgettable mini cart that drives your users to take action.
Pros
This Elements Kit mini cart widget fully supports all standard cart page elements and provides endless styling options–all in a clean, responsive design. It's the perfect addition to your store's Elementor page components!
Coding knowledge and experience are not necessary. Design an effective shopping cart in a couple of clicks.
Cons
Aside from being a premium feature for the Elements Kit addon, adding this to your website means adding extra bytes to your site.
PowerPack Addon Mini Cart & Off Canvas Cart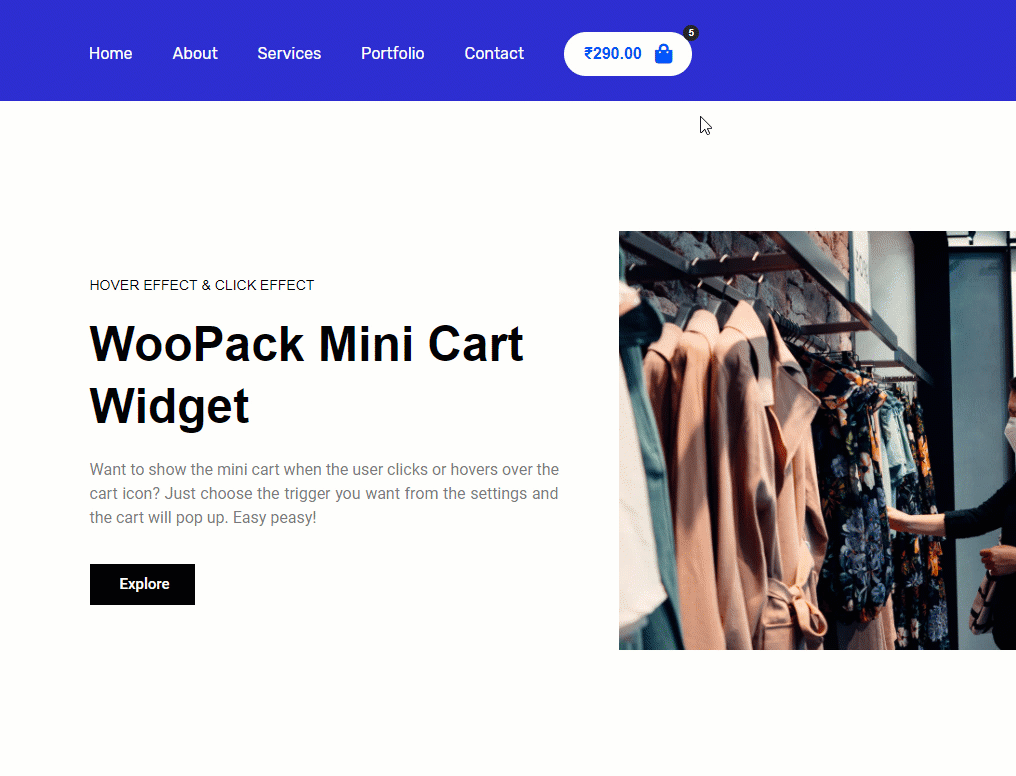 Another addon with a beautiful and impressive mini cart add for Elementor is from PowerPack. You can add a stunning WooCommerce cart to the header of your website with this addon. By adding this widget, you can enhance cart functionality, checkout processes, bring more customers to your WooCommerce store.
With Powerpack, you can customize the look of the individual elements in your store, including the cart button and containers of your choice. You set colors, change images, and select from various styles and layouts.
Thanks to its AJAX loading technology, the Powerpack mini cart will update without your users having to reload the page. And any items removed from your cart on the page will automatically be removed from your mini cart as well.
Pros
To save your users from the extra step of going to the cart page to recheck and review their items, the PowerPack's mini cart gives them a less obtrusive way of editing their order.
Cons
This is not a free addon. You need to cough out at least $49 for this enjoy this feature.
Another plugin in your WP installation and you want to keep things(number of plugins) to a minimum.
Ultimate Addons Mini Cart
UAE Mini Cart is a premium widget that lets you customize and display the WooCommerce mini-cart to fit your website's needs. This useful tool ensures that shoppers can easily access their cart from any page on your site, helping boost your conversion rate.
In this article, we discussed 4 mini cart plugins. The Ultimate Addons for Elementor widget is the most feature-rich one, meaning you can create the best shopping experience for customers shopping on Woocommerce-based sites.
Depending on what format you choose, you can embed your mini cart to either the left or right side of your web page, or make it a drop-down, modal pop-up, or off-canvas. With these awesome options, you can easily customize a mini-cart to fit your design.
Pros
You have 4 ways to display your carts
Getting the UAE addon means you have access to more robust features that make your store stand out
Cons
This is a premium plugin that cost $69 per year
Conclusion on the best elementor mini cart
I have talked about just four add-ons built on top of Elementor, but there are tens more. These four add-ons are the ones that I believe stand out among all those which provide widgets for displaying mini carts.
If you want something that really stands out and you don't mind having additional plugins on your WordPress installation, Ultimate Addon for Elementor might be the right choice for you as it provides great tools to build impressive WordPress websites using Elementor.
I hope you found this Elementor mini cart tutorial helpful in your web design project? Follow us on Youtube and turn on the notification to get new tips and tricks about Elementor.
And you need discount codes for popular addons for Elementor, our Addons Discount page has all the information you need.
Please, do leave a comment if you have any add-ons for Elementor that offer a better mini cart display than the ones I have mentioned in this article.